School Districts Across the Country Are Getting Electric Buses
Thousands of electric school buses will soon be in service and help cut greenhouse gas emissions, thanks to a major government investment.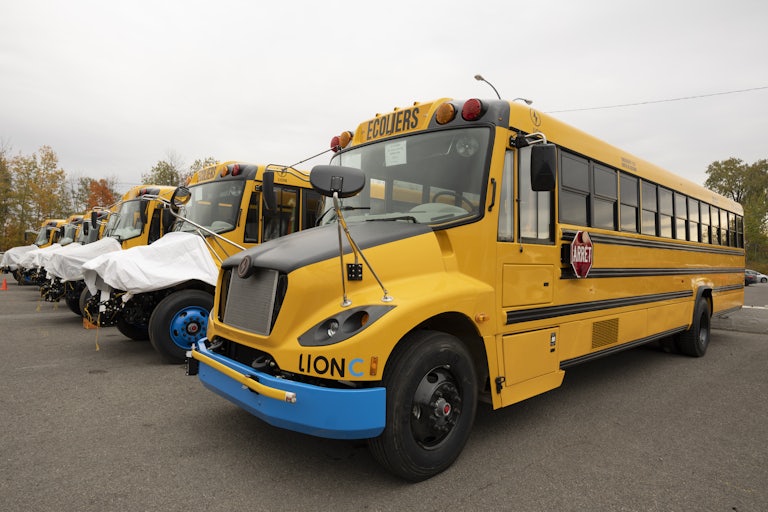 Christinne Muschi/Bloomberg/Getty Images
Nearly 500,000 school buses carry 25 million children to school across the country every day. And now America is in a full-swing effort to replace those buses with electric ones, setting the country on the path to cut greenhouse gas emissions by more than five million tons—equivalent to removing one million cars from the road.
Though states have begun transitioning buses for years, the nationwide project follows the 2021 Bipartisan Infrastructure Law, which commissioned $5 billion toward the effort to replace old, diesel-fueled buses with new cleaner vehicles. The first round of funding distributed nearly $1 billion to districts in states nationwide, including Washington, D.C., and territories including Puerto Rico and Guam.
Such investments not only save millions in emissions and in fuel costs but also correlate to better health and academic outcomes for children: better school attendance, lower rates of asthma, and stronger general respiratory health and cognitive functioning. While electric buses may come at a higher cost at first, the investment pays dividends almost immediately.
And districts from coast to coast are reaping the benefits.
"Our district's diesel fuel costs are tremendous," Heath Oates, superintendent of Missouri's El Dorado Springs R-II school district, told The Daily Yonder. "My initial estimates show we're going to save around $200,000 a year, which is the cost of four beginning teachers with benefits."
Pellston Public Schools in Michigan are estimated to save 80 percent in energy use, saving the 461-student district about $33,000 annually. The estimated reduction in maintenance costs is about 60 percent, which would offer another $23,812 in annual savings.
Nevada's Clark County district, which operates the nation's largest owned-and-operated school bus fleet, with nearly 2,000 buses serving 125,000 students, has just unveiled its first electric model. Just one bus is estimated to save $60 a day in fuel costs—scale that to the whole fleet, and the district could save nearly $120,000 per day.
Beyond the massive fiscal and emission-reduction benefits, the bus rides themselves improve. Bus drivers cite the "smoother ride" and substantial noise reduction as improvements both for their own sake and in enabling them to more easily hear and communicate with their young passengers.
Policies like school bus transitions are good in their own right: The benefits they proffer fiscally, environmentally, and even socially are valuable. But they also show people across the country why policy—and policy battles—matter at all. A society acquainted with the benefits of things like electric school buses would be one eager to demand more such changes.