Who is Julie Su, Biden's New Pick for Labor Secretary?
President Joe Biden has officially nominated Julie Su to serve as labor secretary. Here's what her record looks like.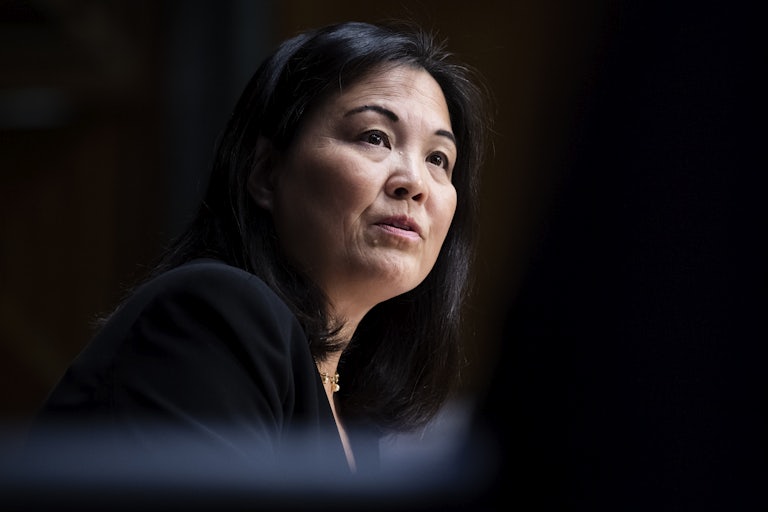 Tom Williams/CQ-Roll Call/Getty Images
Julie Su
Julie Su is on track to become the first Asian American person to serve as a Cabinet secretary under the current administration.
President Joe Biden announced Tuesday that he was nominating Su, currently the deputy labor secretary, to head the entire Department of Labor.
"Julie knows in her bones … that people who get up every morning and go to work and bust their necks just to make an honest living deserve something, someone to fight at their side to give them an even shot," Biden said in an official announcement ceremony Wednesday. "Julie has spent her life fighting for that vision."
He also highlighted Su's upbringing as the daughter of Chinese immigrants in Wisconsin. "Julie is the American dream," Biden said.
Su, 54, first made a name for herself almost three decades ago as a young lawyer in California. When she was just 26, she led a legal team representing a group of more than 70 enslaved Thai garment workers in El Monte, near Los Angeles. The workers were undocumented and forced to live and work in an apartment complex that functioned as a sweatshop in order to "earn" their freedom. Many had been trapped there for seven years before the operation was discovered in a police raid.
Su and her team sued the workers' captors, as well as the manufacturers and retailers of the clothes produced in the sweatshop. The case, which was one of the worst instances of labor exploitation and human rights violation in the United States, helped spur a change in California's legislation to increase worker protections.
Since then, Su has served as the head of California's Division of Labor Standards Enforcement and as the state's labor secretary. In February 2021, Biden nominated her as deputy secretary for the Labor Department. She was seen as a younger, more progressive voice, and her nomination was welcomed by the Congressional Asian Pacific American Caucus, which has called on Biden from the start to nominate more Asian Americans and Pacific Islanders to his Cabinet.
Su's nomination for deputy passed the Senate 50–47 along party lines. Although Democrats control the Senate, Su may be up for a bit of a fight. Many party members, such as Nancy Pelosi, have backed former New York Representative Sean Patrick Maloney—the man who cost his party several key seats during the 2022 midterms—for labor secretary.
Su could also be unpopular for her role in helping avert a national rail strike in December, which culminated with Biden signing a bill that imposed a contract with no paid sick leave on 115,000 rail workers, the majority of whom had opposed the contract.
Progressive Senators Bernie Sanders and Elizabeth Warren have hailed Su's nomination, with Warren calling her "terrific." Sanders, who is chair of the Health, Education, Labor and Pensions Committee, said he thought Su was an "excellent" choice and looked forward to working with her to "protect workers' rights and build the trade union movement."