Every Democrat Who Voted With Republicans to Block a Rule on Sustainable Investing
Environmental, social, and corporate governance, or ESG, investing is Republicans' new favorite target in the war on "wokeness." And a few Democrats are helping them.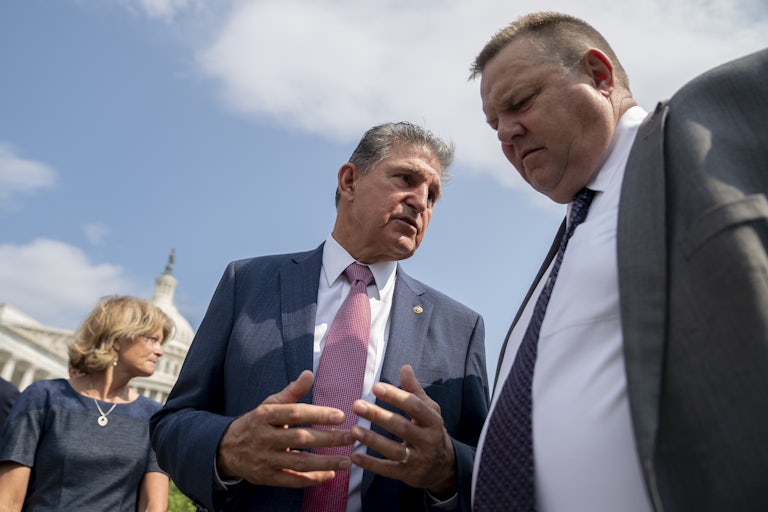 Stefani Reynolds/Bloomberg/Getty Images
Senators Joe Manchin and John Tester
Two Senate Democrats sided with Republicans Wednesday to pass a bill blocking the Labor Department from implementing a rule that allows retirement plans to consider environmental, social, and corporate governance, or more sustainable, investing practices.
The bill, the latest salvo in Republicans' manufactured culture war, passed 50–46. It passed the House on Tuesday and now goes to Joe Biden, who has said he will use his veto powers for the first time in his presidency to block the measure.
The Democrats who helped Republicans get the bill over the finishing line in both chambers of Congress are:
Senator Jon Tester of Montana

Senator Joe Manchin of West Virginia

Representative Jared Golden of Maine
Environmental, social, and corporate governance, or ESG, is a framework that helps investors understand how an organization—in this case, retirement savings plan managers—manages risks and opportunities regarding sustainability. Issues of sustainability include environmental protection, impact on society, and aligning corporate leadership goals with stakeholder ones.
The Labor Department rule makes it easier for retirement plan managers to consider ESG factors such as climate change when making investments or voting on behalf of shareholders. It does not actually require the plans to include these considerations, making it clear this bill is just another Republican attempt to fearmonger over something that's really not bad.
ESG investing also tends to have positive long-term effects, including higher sales to customers, higher employee productivity, and higher company valuation, as well as the impact on environmental and social issues.
Both Manchin and Tester, who are up for reelection in 2024, said they were voting to block the Labor Department rule because they thought retirement funds should focus solely on ensuring returns on investments—even though there is a link between positive performance for ESG investments and financial returns.
House Democrats, meanwhile, have introduced a competing bill called the Freedom to Invest in a Sustainable Future Act that would codify retirement plan managers' right to consider ESG factors when making decisions. It is unlikely to get the support it needs to pass the Republican-controlled House.