Progressive Democrats Introduce First Bill to Tighten Rail Safety Regulations Since Ohio Disaster
The bill, introduced by Ro Khanna and Chris Deluzio, would expand the definition of what is considered a "high-hazard flammable train."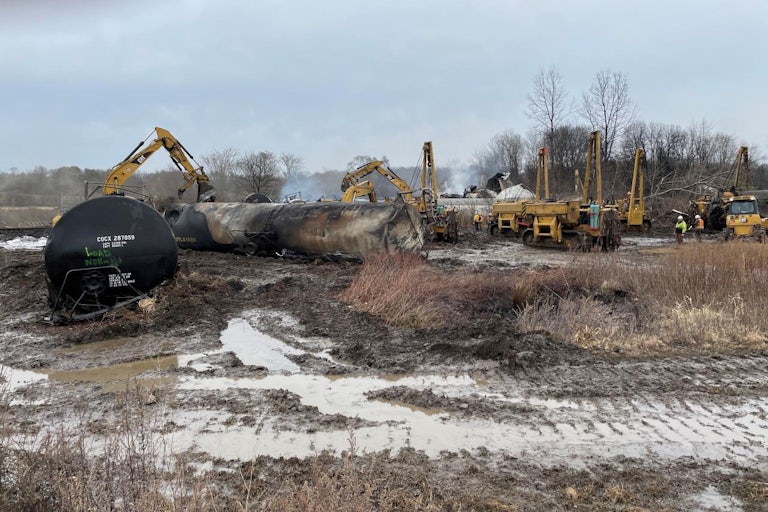 US Environmental Protection Agency/Handout/Anadolu Agency/Getty Images
Officials in East Palestine, Ohio, inspect the area on February 17 after the train derailment.
Progressive Democratic Representatives Chris Deluzio of Pennsylvania and Ro Khanna of California have challenged the rest of Congress to put their actions where their words are. On Tuesday, the duo introduced the Decreasing Emergency Railroad Accident Instances Locally (DERAIL) Act to tighten rail safety regulations by expanding the definition of what classifies as a "high-hazard flammable train," or HHFT.
"For too long, railroads have prioritized profit ahead of public safety and their workers," Deluzio said in a statement. "And it is time to regulate the railroads."
The bill would deem trains carrying so-called Class 2 flammable gases, such as vinyl chloride, to qualify for HHFT classification, and would give the transportation secretary the authority to designate other materials warranting classification as well. The Department of Transportation currently considers an HHFT to be a train carrying hazardous materials in at least 20 consecutive cars, or 35 cars total. The bill would lower that threshold to at least one railcar carrying a Class 3 flammable liquid or Class 2 flammable gas, or again, any other material the secretary may deem especially hazardous.
The first bill on the matter introduced this Congress is also the first of Deluzio's career.
In expanding the definition of what qualifies as a high-hazard flammable train, Congress would also expand which trains warrant higher safety standards. After the disastrous train derailment in East Palestine, Ohio, earlier this month, there has been a lot of focus on former President Donald Trump's decision to overturn an Obama-era rule that mandated updated electronic braking systems for trains carrying hazardous materials. In reality, however, the Obama-era rule would not have applied to the train in East Palestine, as Obama regulators acquiesced to lobbying interests that sought to limit the definition of HHFTs. Had the East Palestine train had updated brakes, it might have been able to stop much quicker and cause less damage.
With Deluzio and Khanna's bill, those errors would be remedied; the bill would ensure trains like the one in East Palestine would be held to higher safety standards and qualify for changes like updated rail cars and braking equipment, as well as stronger audits and cargo reporting. It would be an essential foundation before any of the necessary reforms to hopefully follow. The bill also pushes for stronger information-sharing, requiring carriers to report to the National Response Center and state, local, and tribal officials within 24 hours after a train carrying toxic chemicals derails.
Members of both parties have expressed concern for the train derailment; while they rightly call on the federal government to act, they now also have the chance to take action themselves. Deluzio and Khanna's bill holds necessary provisions for an actually coherent regulatory framework to oversee the rail industry. So if Congress is going to do anything, it starts with this bill.
"This is a moment where we need political leaders from all parties and from across the country to speak out loudly for better safety regulations and to acknowledge what so many Americans are going through," said Khanna.