Never Enough: Now Republicans Want to Censure Jayapal for Israel Comments
Republicans are not done attacking the progressive lawmaker for calling Israel as it is.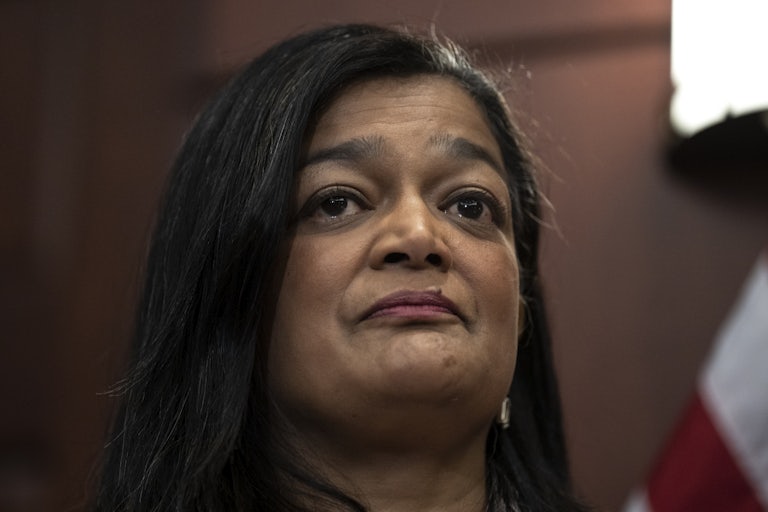 Drew Angerer/Getty Images
Representative Pramila Jayapal
After passing an unequivocal pledge of fealty to Israel, Republicans still are not satisfied. On Thursday, three Republicans introduced a resolution censuring Representative Pramila Jayapal for calling Israel a racist state.
Republicans Andy Ogles, Randy Weber, and Jeff Duncan filed the lengthy resolution claiming Jayapal "has promoted antisemitic and anti-Israel sentiment through her congressional career." Not once in their resolution did the Republicans name an instance of Jayapal saying anything negative about Jewish people, effectively conflating criticisms of Israel with criticisms of Jewish people (which is antisemitic).
Note too, this comes from the party that has not taken any similar action toward one of its own, George Santos—a serial liar, a man who made up a fake charity for a veteran's dying dog only to then steal all the money, and someone who has pretended to be Jewish. Nor has this party taken any action about its leading presidential candidate of eight years dining with one of the most vicious and loud antisemites in the country.
The resolution follows an ongoing drama displaying the American government's resolute support for a state committing massive human rights violations, and its instinctive hostility toward anyone who questions it.
Last week, Jayapal called Israel—a state that has committed decades of human rights abuses, engaged in land dispossession and home demolition, upheld separate systems of law, and maintained a militarized police state against Palestinians—a "racist state."
She made the comments at the progressive Netroots Nation conference in Chicago, ahead of Israeli President Isaac Herzog's address to Congress on Wednesday. Senator Bernie Sanders and Representatives Jamaal Bowman, Cori Bush, Alexandria Ocasio-Cortez, Ilhan Omar, Rashida Tlaib, Raul Grijalva, and Nydia Velasquez all boycotted said address—in similar fashion to members boycotting Indian Prime Minister Narendra Modi's visit to the United States for his record on minority rights.
Republicans went on a full-throated offensive against Jayapal and her progressive colleagues, while ignoring actual vile antisemitism among their ranks. But Democrats too (including Democratic leaders Hakeem Jeffries, Katherine Clark, Pete Aguilar, and Ted Lieu) jumped in on attacking one of their own for echoing what an array of human rights organizations have already said.
All the tone-policing of Jayapal's comments—and the continued little to no concern for Palestinians—led to the House this week voting overwhelmingly in support of a resolution that declared, "The State of Israel is not a racist or apartheid state" and assured, "The United States will always be a staunch partner and supporter of Israel."
While Jayapal later walked back her comments—even before the House resolution—she still maintained her position that Israel has an "extreme right-wing government" that "has engaged in discriminatory and outright racist policies." Organizations like Human Rights Watch and Amnesty International have come to a similar conclusion, describing Israel's actions as racist, abusive, and part of an apartheid system.
Republicans' resolution to punish Jayapal cites Israel's "unwavering willingness to work in good faith."

Just days after Congress laid out the red carpet for Israel's president—who once called Jewish intermarriage "a plague"—Israeli forces shot and killed a 17-year-old Palestinian boy, bringing the 2023 Palestinian death count to over 150.