Republicans Rush to Defend Jason Aldean for Racist Song Filmed at Lynching Site
"Try That in a Small Town" isn't even trying to hide its toxic message—and Republicans seem to love it.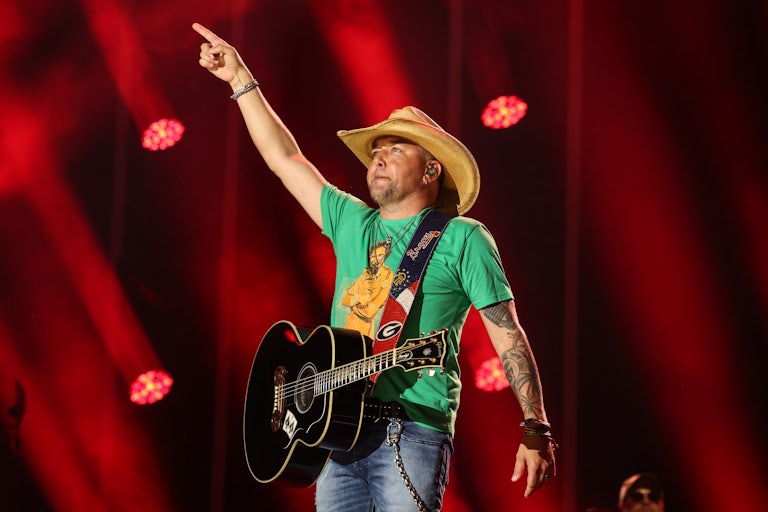 Terry Wyatt/WireImage/Getty
Jason Aldean performing at the CMA Fest in Nashville in June
Republican politicians are rushing to defend ultraconservative country singer Jason Aldean, whose new song openly calls for violence against Black people.
Aldean released the song "Try That in a Small Town" in May, and the incredibly alarming music video just last week. The song's lyrics are rife with threats to outsiders, particularly people from the city. The words encourage listeners to resort to vigilantism and gun violence against outsiders.
But the music video is more explicit about whom it considers an outsider. The video includes clips of riots, vandalism, and police encounters. Some of the images come from Fox News's coverage of Black Lives Matter protests, but some are stock footage, including of demonstrations from other countries. The intended effect is to encourage violence against people protesting racial injustice.
Those clips are spliced alongside shots of Aldean singing outside the Maury County Courthouse in Columbia, Tennessee. The building is the site of a racist attack in 1927, when a white mob lynched an 18-year-old Black teenager by pulling him out of a jail cell and dragging him through the city behind a car. The courthouse was also the site of a race riot in 1946.
The video sparked widespread pushback, and Country Music Television said Thursday it will no longer air the music video. Conservatives have pushed back against the (very understandable) outcry by accusing people of infringing on Aldean's freedom of speech.
South Dakota Governor Kristi Noem said on Twitter she was "shocked by what I'm seeing in this country with people attempting to cancel this song and cancel Jason and his beliefs."

Tennessee Senator Marsha Blackburn warned that "cancel culture is the enemy of freedom of expression," while Arkansas Governor Sarah Huckabee Sanders accused Democrats of being "more concerned about @Jason_Aldean's song calling out looters and criminals than they are about stopping looters and criminals."
Presidential hopefuls have also weighed in. "Jason Aldean is a fantastic guy who just came out with a great new song. Support Jason all the way. MAGA!!!" Donald Trump wrote on Truth Social.
Vivek Ramaswamy and Nikki Haley actually played the song at their campaign stops. Ramaswamy said Aldean was being "sacrificed at the altar of censorship & cancellation," while Florida Governor Ron DeSantis suggested that "when the media attacks you, you're doing something right."
This is not Aldean's first foray into politics. He is openly anti-vaccine and has dressed his children in anti–Joe Biden clothing. His wife and sister have a conservative clothing line dedicated to mocking liberals, and Aldean wore blackface for a costume in 2015. He has also gone golfing with Trump and gave an impromptu performance at Mar-a-Lago.