California Seeks to Disbar Trump Lawyer John Eastman for Efforts to Overturn the 2020 Election
The California bar association says Eastman made "false and misleading statements" about election fraud and provoked people on January 6. For that, he should be disbarred.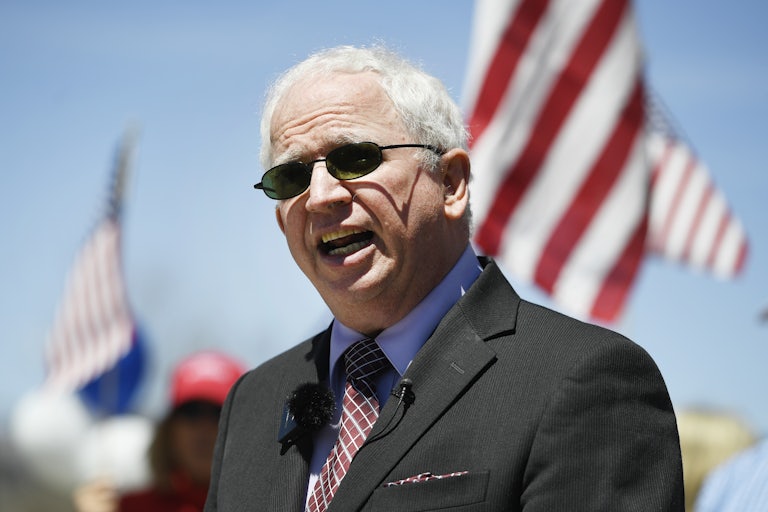 Andy Cross/MediaNews Group/The Denver Post/Getty Images
Former Trump lawyer John Eastman
The State Bar of California announced Thursday it is seeking to disbar former Donald Trump lawyer John Eastman for trying to overturn the 2020 election.
Eastman is accused of engaging "in a course of conduct to plan, promote, and assist then-President Trump in executing a strategy, unsupported by facts or law, to overturn the legitimate results of the 2020 presidential election by obstructing the count of electoral votes of certain states," the California bar said in a statement.
The bar association filed 11 charges against Eastman for making false statements about the nonexistent election fraud, including at the January 6, 2021, rally in Washington, D.C., that turned into the insurrection at the Capitol.
"The Office of Chief Trial Counsel (OCTC) intends to seek Eastman's disbarment before the State Bar Court," the bar said.
Eastman helped lead Trump's legal efforts to undermine the election results and prevent certification of the votes, including by appealing directly to Supreme Court Justice Clarence Thomas. Eastman was court-ordered in November to hand over certain emails to the House January 6 investigative committee, with the judge arguing the exchanges showed evidence of potential criminal activity.
At first Eastman resisted, but eventually he and his team complied—and, cartoonishly, included a live Dropbox link to emails from Trump's legal team discussing how to overturn the election. Media outlets were able to access the emails and share them with the public.
Eastman was also a major player in efforts to pressure then–Vice President Mike Pence into refusing to certify the election results. In actuality, vice presidents hold a mainly ministerial role in the certification and have no power to overturn an election (nor should they).