Amazon Pauses Construction on "HQ2" After Virginia Promised $750 Million for It
Amazon announced it is halting work on its second headquarters in Arlington County.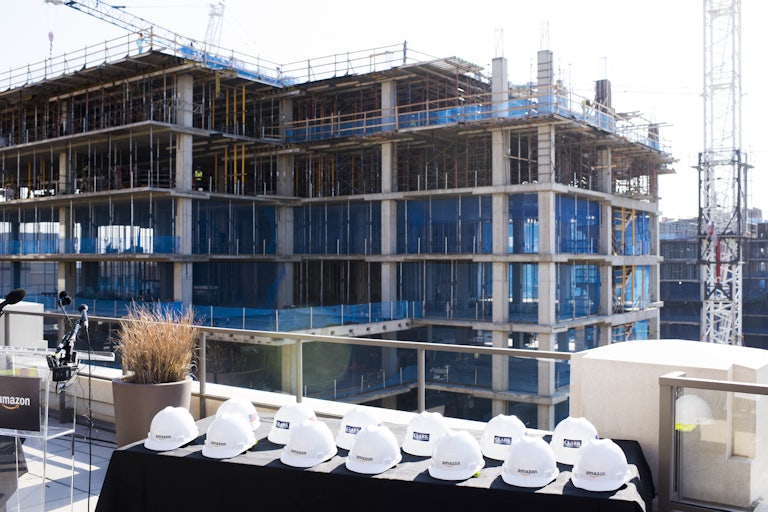 Pete Kiehart/Bloomberg/Getty Images
Amazon's HQ2 development while under construction at Metropolitan Park in Arlington, Virginia, November 2021
On Friday, Amazon announced that it is pausing construction of its second headquarters (dubbed HQ2) in Arlington, Virginia, a project that the state committed up to $750 million in incentives for.
While the company said it's pausing the second phase of the massive Virginia campus, it is still scheduled to open its first phase on time this June, hosting more than 8,000 employees. The entire project was slated to host some 25,000 employees.
The announcement comes after Amazon laid off 18,000 employees, but the company claims the massive job cuts are unrelated to the pause on the $2.5 billion project. Meanwhile, the company has incited some internal pushback as it's rolled out a policy mandating employees return to the office at least three days a week.
In 2019, the state of Virginia approved a plan to give a total of up to $750 million in incentives to Amazon. A grant of $550 million would dole out $22,000 for each job the company planned to create, with another pot of money coming from state's tax revenue. Arlington County, where HQ2 was set to be based, would offer another $22.7 million in cash incentives, based on projected incremental growth of an existing tax on hotel rooms. Both grants are to be distributed over years. Finally, the state is offering another $200 million if the company hires 37,850 full-time employees by 2035.
Arlington hadn't doled out any of the incentives as of last year, since the funds are conditional upon Amazon occupying a certain amount of office space in surrounding areas and the increased hotel activity. "Largely because of the pandemic, that expected growth hasn't happened, and so that means the incentives aren't happening either," County Board Chair Katie Cristol told The Washington Post.
Meanwhile, the state is slated to distribute its first round of incentive funds to Amazon on July 1. Republican Governor Glenn Youngkin proposed appropriating $78 million in the state's Amazon workforce grant fund—an increase from the $42.5 million approved by the legislature.
After publication, an Amazon representative reached out to TNR to clarify the company has not yet received any incentives.

The HQ2 project is an appendage of Amazon's earlier plans to have two headquarters, the other originally meant to be in Long Island City, New York. Due to strong local opposition, headed by Representative Alexandria Ocasio-Cortez, the company pulled out of the New York plans. Much of the opposition was rooted in millions of dollars of public money being given to the massive private corporation instead of being used elsewhere.
"I know I'll never get an apology for that time, but it was worth it. We protected NYers from a scam deal to drain public dollars from schools & infrastructure in exchange for empty promises of 'Amazon jobs' w/ 0 guarantees or guardrails. Sadly, cities who took it are suffering," Ocasio-Cortez tweeted Friday.
This post has been updated.