Supreme Court Paves Way for New Louisiana Congressional Map
If the map is redrawn to include a new majority-Black district, it could help Democrats retake the House.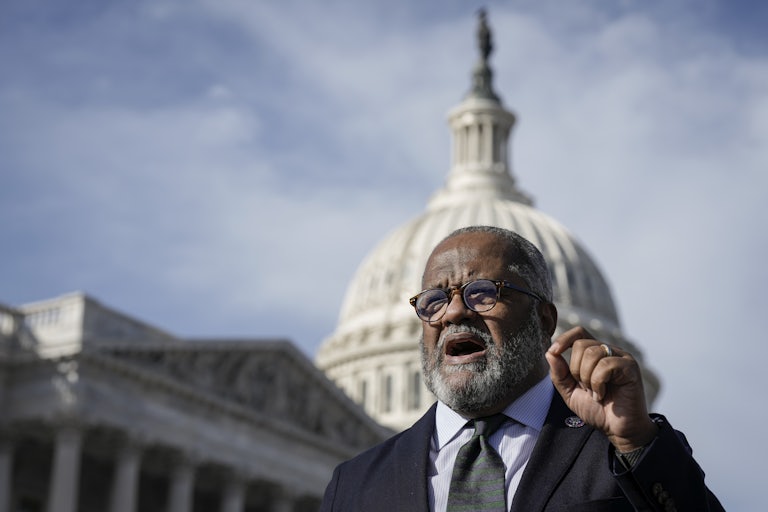 Drew Angerer/Getty Images
Representative Troy Carter of Louisiana
The Supreme Court on Monday lifted a stay on a lower court's ruling requiring the Louisiana state legislature to add another majority-Black congressional district ahead of the 2024 elections. The move came after a surprise decision earlier this month ordering Alabama to redraw its congressional districts, with two conservative justices joining all three liberal justices in ruling in favor of the state's Black voters.

The high court's unsigned order sent the case back to the U.S. Fifth Circuit Court of Appeals, requiring the issue to be resolved "in advance of the 2024 congressional elections in Louisiana." The Republican-led state legislature had passed a congressional map last year that made only one out of Louisiana's six congressional districts majority Black, even though roughly one-third of the state's population is African American. Representative Troy Carter, who is Black, is the only Democrat in the Louisiana delegation.
"This decision shows that in a healthy democracy fair and equitable representation matters, whether to the people of Louisiana or anywhere else in the world," Carter wrote on Twitter on Monday.
Opponents of the congressional maps in Alabama and Louisiana argued that the districts diluted Black voters' strength. The Alabama decision could also affect similar court challenges in South Carolina and Georgia. New majority-Black districts likely give Democrats a better chance of retaking the House. In the wake of the Alabama decision, the Cook Political Report shifted five of its House ratings in Democrats' direction, with analyst Dave Wasserman predicting that "it's very likely two formerly Solid R seats will end up in Solid D."
One potential casualty: Louisiana Representative Garret Graves, whose seat the Cook Political Report had already moved from "Solid R" to "Toss Up" earlier this month. Graves is a key ally of Speaker Kevin McCarthy, and was one of the House Republicans who negotiated the debt limit deal with the White House. The Supreme Court order thus could have far-reaching effects not only for the makeup of the House but for the political dynamics within the House Republican conference.