Mitch McConnell Ruthlessly Drowned Out With Chants of "Retire!"
I think Mitch McConnell's constituents want him to retire.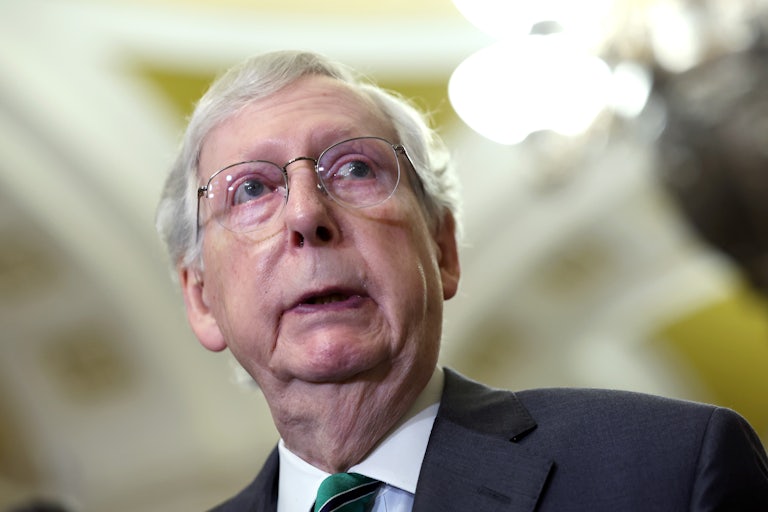 Kevin Dietsch/Getty Images
Spectators drowned out Mitch McConnell's attempts to give a speech over the weekend with boos and demands he retire, a week after the Senate minority leader froze during a press conference.
McConnell appeared at a church picnic in his home state of Kentucky on Saturday. But when he got up to give a speech, he got probably the exact opposite reaction he was expecting.
Picnic attendees booed him and chanted, "Retire!" They also called out, "Shame on you, "Ditch Mitch," and "Lost the Senate!" McConnell futilely attempted to keep speaking, but the chants were far too loud for him to be heard.
The heckling comes about a week after McConnell froze during a news conference and appeared unable to continue speaking. He was escorted away from the cameras, and when he returned later, McConnell declined to comment on what happened or whether it was related to the fall he suffered in March, which resulted in a concussion and his weeks-long absence from the Senate.
In addition to his concussion, McConnell reportedly fell while at the airport just three weeks ago, and he has been using a wheelchair to get around crowded areas. His physical condition isn't actually that surprising: At 81, he's the longest-serving Senate party leader, and he's a member of the second-oldest Senate in history.
His fellow Republicans are also starting to make noise about his stepping down. Another Republican senator told NBC anonymously last week that McConnell is "definitely slower with his gait" and that he declines to discuss his health in private. Another Republican senator, again speaking anonymously to NBC, said that McConnell doesn't speak nearly as much during the weekly party meetings.

"I think that he is just not processing," the senator said.

Even those who are brave enough to go on the record seem concerned about McConnell's ability to remain in leadership.
"He suffered a really bad fall, and that's actually had an impact on him," Senator Ron Johnson said last week, without going into more detail about McConnell's ability to keep working. "Obviously, that fall affected him."
"Age affects us all," Johnson said. "You can't deny that reality."
McConnell, however, has given no indication that he is leaving anytime soon.