Kyrsten Sinema's Bonkers, Possibly Unethical List of Demands for Staffers
They allegedly have to buy her groceries and always have a room-temperature bottle of water at the ready.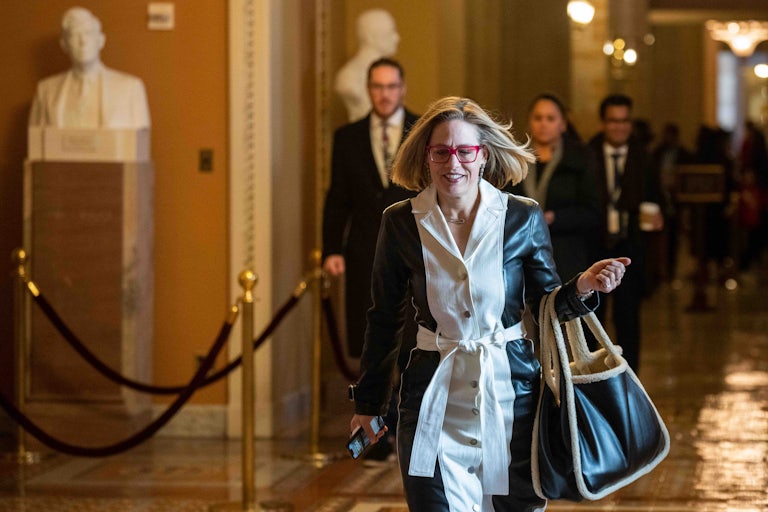 Bill Clark/CQ-Roll Call, Inc/Getty Images
Arizona Senator Kyrsten Sinema
As if being a Capitol Hill staffer wasn't notoriously thankless enough, those who work in Senator Kyrsten Sinema's office must abide by an over-the-top list of dos and don'ts, The Daily Beast reported Thursday.
Sinema is already deeply unpopular both in Washington and at home in Arizona. Her recent decision to switch her party affiliation to independent from Democrat has further ruffled feathers on the Hill. The Beast's report is unlikely to do her any more favors.
Citing a 37-page internal memo and anonymous former staffers, The Beast wrote that Sinema's exacting demands "appear to go right up to the line of what Senate ethics rules allow, if not over." Aides allegedly are required to buy Sinema's groceries (don't worry, she pays them back) and be on hand at her apartment to let maintenance workers inside. If true, those tasks are direct violations of Senate ethics rules, which state that staff are not supposed to perform "personal or other non-official activities" on behalf of their bosses.
Aides also are allegedly required always to have a bottle of room-temperature water handy for the senator, who is apparently always hungry and thirsty because of her intensive athletic regimen. That regimen seems to take up the bulk of her time: The memo shows Sinema trains every day and is unreachable during that time. Races are scheduled into her calendar, and she requires an hour-long massage and two 45-minute physical therapy sessions each week. Actual senatorial duties, such as meeting with constituents, lobbyists, or donors, are confined to specific time blocks each week, and never after work hours.
Sinema's office has denied the memo, which is several years old.
Since coming to Capitol Hill, Sinema has undergone an ideological 180-degree turn, seemingly jettisoning the progressive beliefs she previously espoused. She is notoriously private, rarely answering journalists' questions. After she announced she was switching parties, the Arizona state Democratic Party accused her of failing to stand up for her constituents in key areas such as voting rights and holding major corporations accountable.