Greg Abbott Wants More Texans to Be Mauled by Vicious Dogs
Gov's veto spree included a bill that would have increased penalties for owners of attack dogs.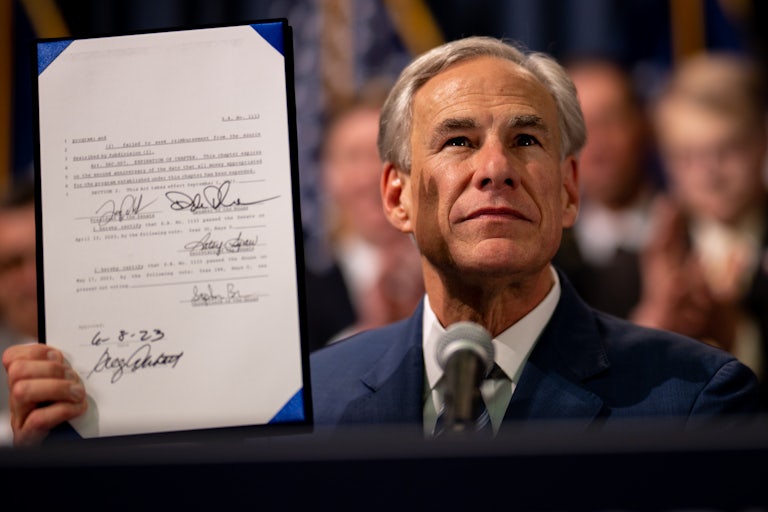 Brandon Bell/Getty Images
Texas Governor Greg Abbott
We already know that Texas Governor Greg Abbott wants people to be able to make citizens' arrests of anyone who aids and abets the act of seeking an abortion. You can't do that in Texas. But if you own a pit bull that tears into a human being's flesh, all is cool.
According to the San Antonio Report, the GOP governor went on a veto spree last weekend, in part because he was miffed that a property tax relief bill he was pushing failed to pass. He vetoed 77 bills—among them, the Ramon Najera Act, named after an 81-year-old man who was mauled to death in San Antonio in February by two pit bull mixes. Evidently, according to the Report, people letting their vicious dogs roam neighborhoods unleashed is kind of a thing in San Antone.
The bill was sponsored by Democrats, so it probably never had much of a chance. Abbott argued that existing local laws were sufficient, and to be fair, the owners of the killer dogs in question were jailed. Still, it's funny to hear a very conservative Republican governor complain about the "overcriminalization" of any illegal activity. Proponents of the law argue that the loose dogs are a genuine menace and a stronger message needs to be sent to the owners.
People killed by violent dogs aren't the only humans who were on the business end of Abbott's version of compassion in the last few days. He also rescinded two local laws in Austin and Dallas that provided outside workers a right to a certain amount of shade and water breaks.
He did so in the midst of a massive heat wave.
Oh—and a few days after Abbott acted, a 35-year-old lineman in the town of Marshall died after experiencing symptoms of heat illness. The heat index was 100 degrees while the man was working.
These moves come two weeks after Abbott sent a busload of migrants to Los Angeles in his latest let's-use-human-beings-as-props stunt.
So now we know what you really don't want to be in Greg Abbott's paradise: an undocumented immigrant who works outside and who attracts the attention of an unleashed pit bull.